Nebraska Land Judging & Soil Evaluation
Nebraska Land Judging & Soil Evaluation
Land Judging is a high school competition that challenges students to gain a better understanding of soil structure and land evaluation. Land Judging enables each participant to learn how to recognize the physical features of the soil, determine land capability for crop production, and evaluate management practices needed for proper stewardship. Soil, land and home-site evaluation provide a setting for students to investigate the soils in their region, the environment that surrounds them and their effect on their daily lives.
Soil is one of the most important natural resources of our environment. Soil supports and influences the crops we grow for food and fiber, the water we drink, and the air we breathe. The soils of the world fit for plant growth must sustain all the plants, animals and humans that make the Earth their home. The soil acts as a filter for the water entering the groundwater supply, as well as interacting with or being eroded by the water that flows over the surface. Soil has a direct effect on the air we breathe when it becomes airborne and is evident when dust settles or obscures vision. Soil takes long periods of time to develop but can be destroyed or eroded away in very short periods. It is only through proper stewardship of soil that life on Earth can be sustained and improved.
Learn how the University of Nebraska–Lincoln propelled Husker Kennadi Griffis (Lincoln, NE) to an international championship in soil judging as a member of Team USA.
INFORMATION AND USEFUL TOOLS:
Land Judging Guide Book - Fundamentals of Land Evaluation in Nebraska
Guide for Applying Conservation Treatments for Land Evaluation (updated 12.29.22)
Setting Up and Holding a Land Evaluation Contest (updated 12.29.22)
Fact Sheet for Each Field Instructor (updated 12.29.22)
South Central and South West Capability Chart
South East, East Central, North East, North Central Capability Chart
SCORECARD EXAMPLE:
Reference Card (Students will keep as a record after contest)
RULES AND REGULATIONS:
State Land Judging Rules and Regulations (updated 12.29.22)
LAND JUDGING COMPETITION:
2023 Regional and State Land Judging Competition Dates, Locations and Contacts (updated 2.2.23)
State Land Judging Competition
Oct. 25, 2023
North Central Region Rotation
2022 Regional Land Judging Results:
2022 State Land Judging Scores (TBD):
STATE TEAM SCORES
STATE INDIVIDUAL SCORES
First Place: Norfolk
Second Place: Hampton
Third Place: Southwest
Fourth Place: Bayard
Fifth Place: Lewiston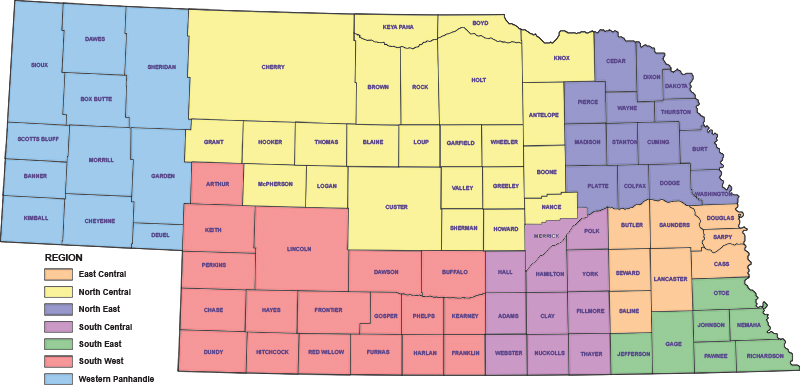 Regional Map Updated 12.29.22.
For more information contact Megan Grimes at mgrimes [at] nrdnet.org or 402-471-7670