Urban Conservation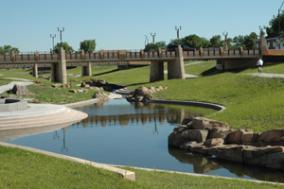 Most of Nebraska's residents live in cities and towns, but we are never far removed from the state's natural resources.
Conservation is just as important in cities as in rural areas. The activities of city dwellers have a major impact on water and soil – activities like construction, tending lawns and gardens, maintaining motor vehicles and the use of hazardous chemicals, as well as solid waste disposal.
NRDs respond to these needs by focusing resources and programs toward urban problems and issues. They include urban forestry, urban park development and improvement, wellhead protection, flood control, stream bank erosion control, recreation and education. Public information and education efforts take the conservation message to a broad audience, including urban and rural residents.
School outreach programs teach children about the importance of conserving natural resources and ways to contribute to a safe, clean environment. Elementary students attend water and natural resources festivals across the state, while older students benefit from outdoor classroom development, contests for range and soil judging, and other activities.
Many districts help teachers develop tools to pass the conservation message on to the next generation. Districts assist universities and colleges in developing natural resources opportunities.
Workshops for farmers and urban landowners provide practical information on a variety of ways to care for natural resources.