Omaha's Concordia Lutheran Qualifies for International NCF-Envirothon
Omaha's Concordia Lutheran Qualifies for International NCF-Envirothon
Nebraska Students' Natural Resources Knowledge Shines
LINCOLN, Nebraska – High schoolers from across Nebraska met in Cozad for the 30th annual Nebraska State Envirothon April 27, 2022. Concordia Lutheran of Omaha took home the championship along with $1,500 and will represent Nebraska at the National Conservation Foundation (NCF) Envirothon in July.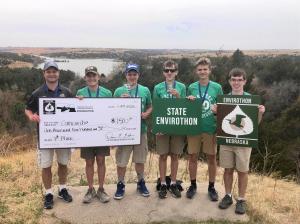 Envirothon is an environmental education program for high school students that combines classroom learning and outdoor activities. This year's competition was hosted at Camp Comeca near Cozad.
"Envirothon allows students to get outdoors and learn about natural resources in a hands-on environment," said Orval Gigstad, Nebraska Association of Resources Districts president. "The activities are designed to help students become environmentally-aware, action-oriented adults, but also exposes them to many exciting career opportunities."
During the state competition, five-member teams were tested on their knowledge of aquatics, forestry, policy, range, soils and wildlife, as well as prepared and delivered an oral presentation focusing on a current environmental issue.
The 2022 oral presentation theme "Waste to Resources" challenged teams to propose a solution on a complex problem before a panel of judges.
The Nebraska Association of Resources Districts (NARD) Foundation awarded cash prizes to the top three teams at the state competition:
First Place ($1,500): Concordia Lutheran (Omaha, Nebraska)
Second Place ($1,000): Norris High School (Firth, Nebraska)
Third Place ($500): Milford High School (Milford, Nebraska)
Additional prizes were awarded to the top teams in each testing category:
Aquatics (tie): Concordia Lutheran and Dawson County Envirothon Club
Forestry (tie): St. Paul Team 1 and Milford
Policy: Loup City Team 2
Range: Burwell
Soils (tie): St. Paul Team 1 and Concordia Lutheran
Wildlife: Norris
Oral Presentation: Omaha Zoo Academy – Children of the Corn
Seventy-five teams competed in the regional contests during February and March, and 14 teams qualified to participate at the state competition.
Concordia Lutheran will represent Nebraska at the NCF-Envirothon July 24-30, 2022, to compete for a top prize of $15,000. The international NCF-Envirothon will be hosted at Miami University in Oxford, Ohio, and include more than 40 teams from the U.S., Canada and China.
Learn more about the Nebraska Envirothon at www.nrdnet.org/nebraska-envirothon.