Executive Travel Charts Course for Carbon-Free Travel, Plants 111K Trees
Executive Travel Charts Course for Carbon-Free Travel, Plants 111K Trees
LINCOLN, Nebraska – In a groundbreaking effort to promote sustainability within the travel industry, Lincoln-based Executive Travel has taken the initiative to offset its carbon emissions by planting trees throughout the state.
In July 2021, Executive Travel announced its ETGreen initiative with a goal of planting 1 million trees to help reduce the industry's impact on the planet. Pledging to plant a tree for each plane ticket sold, Executive Travel partnered with Nebraska's Natural Resources Districts (NRDs) to source and plant trees throughout the state.
The partnership between Executive Travel and Nebraska's NRDs has resulted in a significant environmental impact. In 2022 alone, 48,862 trees were planted across various communities in Nebraska. Building on this success, the initiative reached new heights in 2023 with 62,370 trees planted, further enhancing the natural beauty and sustainability of Nebraska's landscapes. As a result, the combined efforts of Executive Travel and the Natural Resources Districts have led to the planting of 111,232 trees during the span of two years.
"Together, we have made a significant contribution towards restoring and preserving Nebraska's natural habitats," said Steve Glenn, Executive Travel chairman. "By planting more than 111,000 trees, we are not only offsetting carbon emissions but also creating a legacy for future generations. We are committed to continuing this vital work and furthering our collective efforts to protect the environment."
Nebraska's NRDs work with a network of local landowners who plant trees annually through the NRD Conservation Tree Program, which means the trees are cared for after the initial planting. The collaboration between Executive Travel and Nebraska's NRDs showcases the power of public-private partnerships in addressing environmental challenges and fostering a sustainable future.
"By embracing a commitment to environmental stewardship, Executive Travel is setting an inspiring example for the travel industry," said Dr. Orval Gigstad, Nebraska Association of Resources Districts president. "Each tree planted represents a tangible step towards a greener future, where nature thrives, and communities flourish."
Each year, the NRD Conservation Tree Program provides hundreds of thousands of low-cost, bulk trees for planting across the state. Districts collect orders for trees between November and March, then trees are distributed in April in time for spring planting. A majority of NRD conservation trees are sourced from the U.S. Forest Service's Bessey Nursery in Halsey, Nebraska.
In 2023, Nebraska's NRDs planted more than 598,000 trees with over 62,000 funded by Executive Travel. Executive Travel's cost-share funding allowed Nebraska's NRDs to plant thousands of additional trees in a variety of ways around the state including:
Lower Loup NRD planted 8,151 trees with 302 landowners in central Nebraska, who were handplanting trees in the district.
Upper Niobrara White NRD planted 7,600 trees with landowners in northwest Nebraska.
Lower Big Blue NRD planted 400 trees in wildlife plantings at Cub Creek Recreation Area southwest of Plymouth, Nebraska, and an additional 800 trees with local schools and community organizations.
Executive Travel has committed to third year of tree planting with Nebraska's NRDs and hope to plant an additional 75,000 trees during the 2024 planting season next spring.
Since their inception in 1972, Nebraska's NRDs have been planting conservation trees and shrubs for windbreaks, erosion control, wildlife habitat and other conservation purposes. NRDs planted have planted more than 100 million trees – that's approximately 50 trees for each Nebraskan.
Each NRD program varies, but possible tree program services include planting, weed barrier installation or weed control, and drip irrigation. For more information on cost share availability, designing a plan or ordering trees, contact your local NRD or visit www.nrdtrees.org.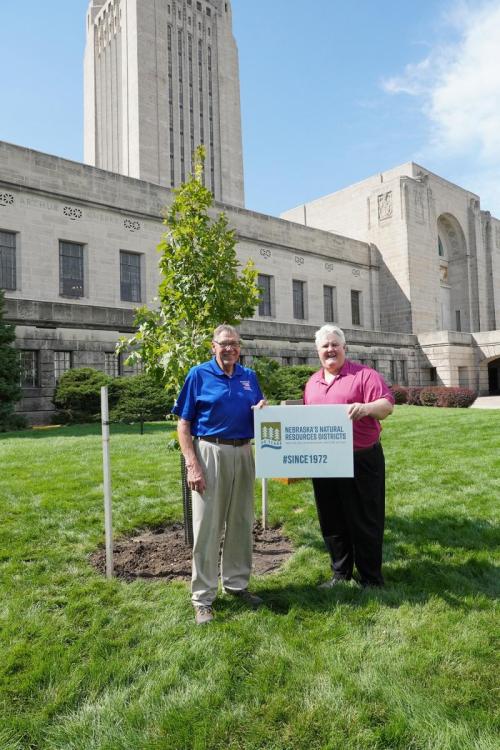 Nebraska Association of Resources Districts President Dr. Orval Gigstad, left, and Executive Travel Chairman Steve Glenn help plant a tree at the Nebraska State Capitol in September 2022. Lincoln-based Executive Travel has taken the initiative to offset its carbon emissions by planting trees throughout the state.