Lower Platte North NRD Dedicates Education Building
Lower Platte North NRD Dedicates Education Building
Dozens attended the dedication ceremony and open house on Friday, Aug. 20, to tour the newly renamed Clint Johannes Education Building at Lake Wanahoo – formerly named the Lake Wanahoo Education Building. Last year's pandemic put a hold on the original open house date which had been set for April 2020.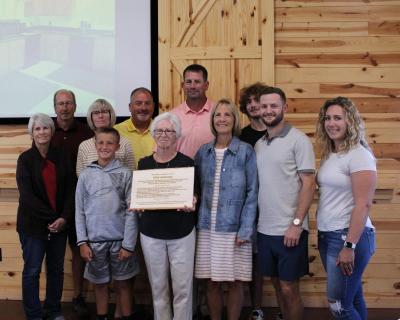 Many current Lower Platte North Natural Resources District (LPNNRD) directors and former LPNNRD directors who had worked with Clint Johannes attended the event. Shirley Johannes, Clint's wife, attended the ceremony, along with some of children, and grandchildren.
Shirley and her family were very grateful and honored to be a part of the celebration. Shirley added that Clint would have been very happy to see the building and it is something he would have truly enjoyed.

The Lower Platte North NRD Board of Directors voted unanimously to rename the building to honor former LPNNRD Director, Clint Johannes, who passed away in 2016. During his 25 years of service and leadership with the LPNNRD board, Clint served for Sub-District 4, which covers the South and Southwest parts of Colfax County. He served as Chair, Vice-Chair and Secretary, along with participation in the Water, Personnel, and Executive Committees. Clint was a strong supporter of the Lake Wanahoo/Sand Creek Environmental Restoration Project, the Wester Sarpy/Clear Creek Project, and the Shell Creek Levee Project in Schuyler. In addition to these duties, he served on numerous conservation boards and was actively involved with the High School Envirothon contests.

The Lower Platte North NRD holds environmental education programs for all ages throughout the year at the building. There have been various hands-on activities for all ages – from Preschoolers exploring nature and learning how to fish for the first time, to the annual LPNNRD Spring Conservation Sensation for 5th and 6th graders, to FFA officer training, to the monthly Coffee Lakeside events, and more!

For more information about the Clint Johannes Education Building at Lake Wanahoo or the Lake Wanahoo NRD Recreation Area, please call the NRD office at 402-443-4675, visit lpnnrd.org or email lpnnrd [at] lpnnrd.org.